Good Afternoon.
I was asked by Hunkydory if I would like to do a product review and of course I jumped at the chance.
This was not as easy as I thought it would be as they have so many gorgeous products it took me a while to decide. In the end I decided to review some Creative Expression Dies by Sue Wilson.
I have two project to show you today the first one being the Frame and Tags set
Claire
.
The largest die measures 10.6 x 10.6cm.
There are five dies in this collection two of which are fairly intricate but they cut like a dream on the first run through.
I have layered the dies for this project but they can also be used to create an aperture as I have done below, all that is needed is to add some bling.
The sentiment is part of the set used in my second review.
Also available to co-ordinate with this die set are two stamps which you can see below.
For my second review I have used the Frames and Tags die
Isobel
.
I loved using this die as it is so different to any I have but I think it may become one of my favourites.
Their are two large dies which cut out the border with the swirly corners the largest of which measures 12.3 x 9 cm. There are also three dies in this set, Celebrate on this card, Just for You on my first tag and Thanks as below.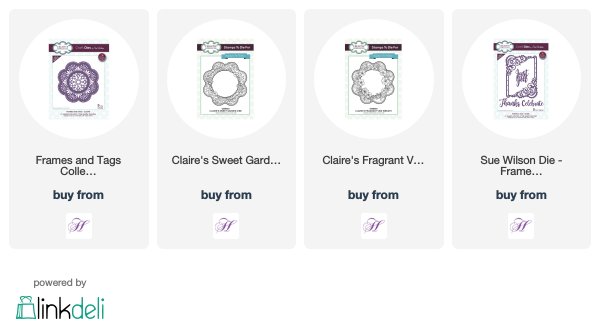 Once again Hunkydory thank you for asking me to write a review. I have thoroughly enjoy using your products and I hope you like how I have used them.
Hugs Sharon. x